The fantasy hockey season is near, so here's the second edition of my fantasy hockey guide to success! Here are five goalies that may surprise you in the upcoming season.
---
Sergei Bobsrovsky, Columbus Blue Jackets: Bobrovsky is coming off of a solid season, but nothing like his 2012-13 season, when he was named to the NHL's First All-Star Team. The Blue Jackets have vastly improved since their last place finish in 2011-2012, and only good things will follow in Columbus. With a strong defensive core, Bobrovsky could be a Top 5 fantasy goalie this season.
---
Braden Holtby, Washington Capitals: Braden Holtby did not play the way fantasy owners hoped last season. He was battling with Michal Neuvirth, Jaro Halak, and even Phillipp Grubauer for games, and ended up playing just 48. Those are not enough games for a bonified starter in the NHL. With Neuvirth and Halak gone, it seems that Holtby is the clear number one in Washington now. Additionally, new d-men like Matt Niskanen and Brooks Orpik are only going to help Holtby in the crease.
---
Roberto Luongo, Florida Panthers: It was a rough year for Roberto Luongo and the Vancouver Canucks in 2013-14. Luckily for Luongo, he was traded to a real dark horse and young team, the Florida Panthers, at the trade deadline. With the additions of Aaron Ekblad and Willie Mitchell, along with other young d-men, Luongo could flourish in net; not to mention, much less media attention and pressure. Some may think Luongo is passed his prime, however, I think that his confidence and play will be rejuvenated in Florida, and he could realistically lead them to the playoffs. This could be a great fantasy pickup for the upcoming season.
---
Kari Lethonen, Dallas Stars: When he's not sitting on the net, Kari Lethonen is always one of the most underrated fantasy players. I have drafted him in my fantasy leagues consistently over the last few seasons and as a fantasy owner, you don't realize this guy's value until you see it. In my main pool last season he was the 14th goalie drafted (92nd Overall) and finished as the 6th best fantasy goalie point-getter (this was a head-to-head points league). His numbers show that he is legit, and he is a steal, usually taken in the 5th-9th rounds in a standard league draft. Things may change this season because slowly, more serious fantasy owners are seeing his true value, but in most leagues, this a player that will help your team immensely, for a low price.
---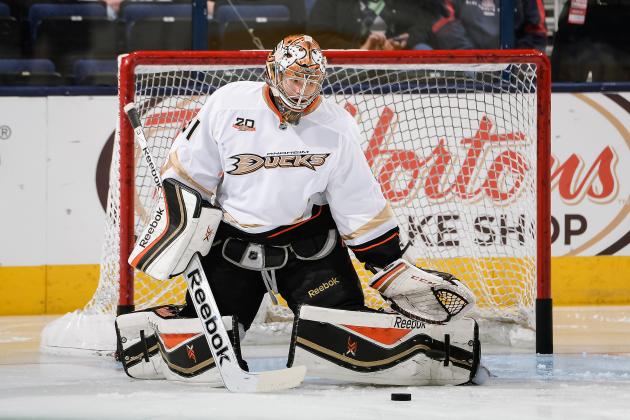 Frederik Andersen, Anaheim Ducks: The John Gibson era has started in Anaheim...supposedly. Gibson had an extremely impressive outing in the 2014 Stanley Cup Playoffs, but from what hockey history says, he may not have a great year. Let's take Steve Mason for example; unreal rookie season in Columbus, wins the Calder Memorial Trophy as Rookie of the Year, next season does not perform as well. The term is 'sophomore slump', and although Gibson isn't even technically a rookie yet, I think he may crumble under the spotlight. The pressure and expectations of Gibson went through the roof after his marvelous display in the playoffs, and the departure of Jonas Hiller, so where does this leave Frederik Anderson? He is sitting back, training for the season, with no expectations on his shoulders. If Gibson does end up having a bad year, or even gets injured, Andersen will step right in, and I have faith that he will play his game extremely well. He also he has some pretty good defensemen in front of him starting with Francois Beauchemin. This is a very bold prediction, but it could realistically happen. Fantasy owners who may have an extra goalie spot should pounce on this player as a late round pick, or even as a free agent as the season progresses.

---
Justin Cait - The Hockey Stuff

Read more hockey analysis at Live4SportNetwork.com
Follow me on Twitter:
@TheHockeyStuff
Subscribe to me on YouTube at:
YouTube.com/TheHockeyStuff
---